The Guardian's pub expert Tony Naylor has been making his way round the UK listing the best craft beer pubs in each major city. Not bad work if you can get it.
His focus on Belfast contains a number of informed choices but also a few leftfield pubs that you might want to consider when seeking a bottle or a pint of something crafty.
His verdict was to label The Hudson, Brewbot and Woodworkers as "the Holy Trinity of Belfast's craft beer bars".
The Guardian's Top 10 Craft Beer Pubs In Belfast
Bootleggers
Described as a "dude food" diner, Bootleggers got a special mention for its Irish beers from such outfits as Trouble Brewing, Knockout and Farmageddon, as well as some more obscure US beers.
The Woodworkers
Tony commented that "the interior may tick too many modern, bar-design cliches (retro peg-board menu; exposed brick and distressed plasterwork; towering Victorian apothecary-style back bar), but there is no doubting the quality of the beer, nor the sincerity of the staff".
Sunflower
The Sunflower left a lasting impression on the pub expert who described it as a "dusky nook of a bar" where "the beer choice is bang up to date".
The Hudson Bar
"Idiosyncratically decked out in antique bric-a-brac, this busy, multistorey cafe-bar and music venue has one of Belfast's most comprehensive craft beer ranges." Couldn't have put it better ourselves.
The John Hewitt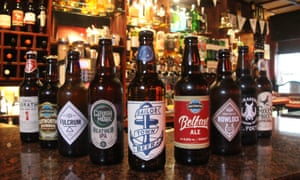 Not surprising the ethos of The John Hewitt and quantity of the craft beer on offer caused Tony to remark, "The John Hewitt doesn't just have worthy credentials, it is also an excellent pub."
The Dirty Onion
Of The Dirty Onion, Tony said: "This is not, perhaps, an essential stop-off on strict craft beer terms, but it is worth seeing for the building (likened to a settlement from Mad Max) and – if such music is your bagpipes – the nightly traditional folk sessions that the Onion hosts with cultural centre An Droichead."
Bittles Bar
Through no fault of its own, Bittles is a bar that doesn't find itself on many must-do lists in Belfast. Fear of the unknown may be the biggest factor associated with this tiny triangular bar at the back of Victoria Square. Tony was impressed with Kinnegar's "stellar beers" alongside offerings from Northbound and Ards Brewing Company.
The Garrick
The chalkboard crammed with over 50 Irish and international craft beers was what grabbed Tony's attention in The Garrick. He described Pokertree's Ghrian Golden Ale as "citrusy and floral and, yes, had more spicy complexity than normal. It is a moreish, refreshing beer".
Brewbot
Brewbot is both an automated, hi-tech brewing kit due to be launched soon and a bar, opened by the same team, that has immediately established itself as Belfast's foremost craft beer hub. Brewbot was described as "a stark, post-industrial space" adding that Brewbot's menu of around 150 bottled beers is by far the biggest in Belfast. In what we presume was a compliment he called the staff "beer evangelists".
The Errigle Inn
Tony final port of call was The Errigle Inn which he labelled as "a labyrinth venue that is simultaneously a locals' boozer and a multi-roomed comedy, sport and music venue, it is also hot on good beer."
Read the full lowdown by Tony Naylor of The Guardian here
Facebook Comments